one month professional nail art and extensions course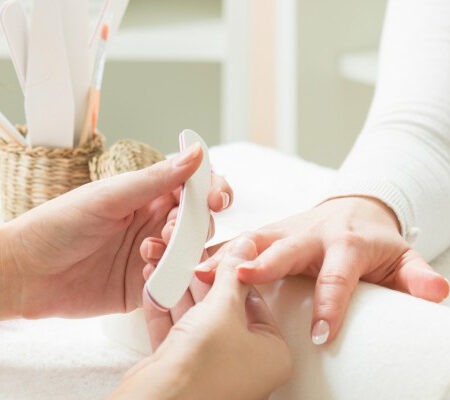 Basic Details
Duration: One Month
Batch Options: Weekday and Weekend
Class Timings: 9:00 am to 11:00 pm
Batch Size: 4 – 5 students/ batch
Methodology: Interactive & Hands-On
topics covered during this nail art course
Introduction to nail extension tools and products
Different nail extension shapes
Nail tip application and locking
Acrylic application
Gel application
Nail refilling
Nail removal
French nails
Ombre nails
Brush nail art
Marble nail art
Glitter nail art
Chrome nails
Matt nails
Stone and accessory application
3D nail art
nail art course fee is 22000
(training Products will be provided by the academy)
book a counselling session
call 8448494094
Find the Best Professional Nail Art and Extensions Course in Delhi at MBM Makeup Studio!
People love seeking manicures and pedicure whenever they pay a visit to a salon. And why not? Not only does it helps get rid of dead skin cells, fungus, and infections but also keeps the nail stronger and healthier. Additionally, it also has an aesthetic component to it.
Who doesn't like to have pretty looking hands and feet? Our nails have a significant role to play in determining how they look. Nail art is considered to be a creative way to paint, enhance, decorate, and embellish nails. It is done on toenails and fingernails after a pedicure or manicure session, often by a professional.
Kickstart Your Career with a Nail Art Course
If you are interested in the beauty industry and would like to take it up as a career, there could be no better way than taking up a professional nail art course in Delhi. As an amateur who is looking to acquire a new skill, nail courses seem to be a reliable choice.
It is one of the most commonly available and popular beauty treatments that should be in the skill set of a beauty therapist. If it is your dream to be a beauty therapist, nothing can get your career better than a nail course.
Though it is an attractive course for professionals, you can also take it up as a hobby to learn the intricacies of nail art. If your dressing table has an extensive collection of nail paints and you like playing with colours, especially when it comes to your nails, taking up a nail course can be an awesome opportunity for you to learn a new skill.
MBM Makeup Studio is at Your Service!
Find the best nail art courses in Delhi only at MBM Makeup Studio. As one of the highly regarded businesses in the beauty industry, you will get to learn from experts about the beauty of nail art. Apart from nail art, you will also get to learn about nail extensions in Delhi.
Our professionals are committed to teaching you the best techniques and hacks that can make your nail art easy, neat, and gorgeous. Become an expert in nail art and extensions by enrolling today!