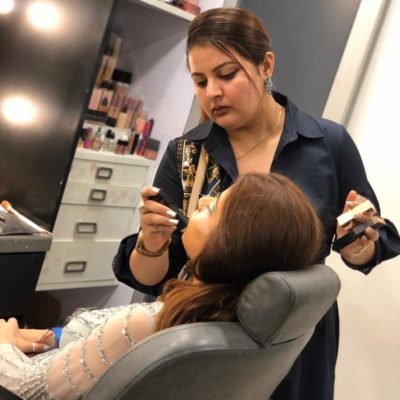 a makeup course that ensures success !
MBM's intensive training contains all the ingredients required for success & stability. We pride ourselves in producing  the most polished makeup artists of the industry.
Bridal makeups
by students
most detailed Course Content
Makeup Basics
Detailed product knowledge
Brush knowledge
Vanity guidance & planning
Face shapes
Eye shapes
Colour Theory
Skin analysis
Skin prepping
Eye liner application & types
Eyebrow correction
Lipstick application & correction
Hair Styling Basics
 Detailed product knowledge
Detailed knowledge of tools
Blow dry
Hair pressing
Tong curls
Social Media Session -1
Makeup
Eye base & shadows
Concealing
Colour Correction
Derma base
Liquid foundation base
Contouring
Highlighting
Blush application
Basics of Eye Makeup
Blending skills
Hair Styling
Pressing curls
Back combing
Braids
Basic open hair styles
Makeup
Nude makeup
Matt nude eyes
HD Day party makeup
Glitter application
Eye lash application
Hair Styling
Basic hair style with puff, suitable for nude makeup
Sabyasachi Neat bun
Crimping
One sided braided hair style, suitable for day parties
Dupatta Drapping
Makeup
HD Night party makeup
Soft smokey eyes
Intense smokey eyes
Coloured smokey eyes
Glittery eyes
Air brush makeup basics
Hair Styling
Teasing
Shredding
Open hair style suitable with night party makeup
Low messy bun
Side bun
Makeup
Cocktail makeup with Air Brush
Hallo eyes
Water proof makeup base
Hair Style
Open Hair style suitable for cocktail
High bun
Hollywood waves
Social Media Session – 2


Makeup Workshop – Mature Skin
Makeup
Engagement makeup look using Airbrush
Reception makeup look
Cut crease makeup
Semi cut crease makeup
Dewy makeup base
Hair Style
Saree Drapping
Makeup Workshop –  Fantasy Makeup
Makeup
Bridal makeup using Air Brush
Arabic eyes
Bridal makeup variations
Hair Style
Bridal bun
Bridal bun front variations 
Maatha patti setting
Tikka – Passa setting
Flower application 
speak to our
student
counsellor !!
Why choose makeup artistry as your career
mbm school
will help you accomplish
your dreams
largest training setup
of delhi ncr !!
With over 7500 sq ft of carpet area MBM School is the largest makeup training centre of Delhi. 
trained more than 5300
makeup artists
frequently asked questions
Since this is a skill based course, its important for everyone to have their dedicated personal vanity. For this reason every participant buys her own products. However we will guide you about which products and where to buy.
Makeup and Hair styling are skill based courses. Apart from passion these skills need a lot of time and practice to perfect.
So as to ensure proper learning it's important to invest in vanity and tools of your own
The first three classes are of product knowledge. During these sessions you will learn about all the professional products required for makeup and hair styling. Their variants available in India and abroad, where to buy and how to distinguish between original and dupes.
Trainers will also guide you about what needs to be ordered on Nykaa, which products can be bought from a local shopping center. 
No, this is a basic to advance course. We shall start from the very zero level, no prior skill or knowledge about makeup is required. 
No, this is a full time course. The classes are conducted from 11:00 am to 4:30 pm
Yes for sure, this is a beginner's course and we start from the very basics.
To register for this course you need to pay an advance amount of Rs 15000.
This can be transferred through NEFT/ IMPS to our bank account or you can payTm us. 
Even better if you can come personally to the center and enroll their.   
To initiate the process please connect with us personally on 8448494094
The fee has to be paid in three parts:
1. 15000  advance to block your seat.
2. 35000 on the first day. 
3. 35000 have to be paid after one month.
Find the Best Makeup Artist Course in Delhi at MBM Makeup Studio!
The creative inputs of professional makeup artists can transform an average girl-next-door woman to a dazzling diva. When it's time for the most exciting events in one's life, such as weddings and anniversaries, women can't imagine stepping out of their homes without the touch of a professional makeup artist.
A makeup artist also gets to work with celebrities, including musicians, politicians, fashion designers, actors, and models. With the world revolving around fashion, the demand for professional makeup artists is expected to be on a surge.
Only an expert has the hands capable of creating a perfect face, which often comes from training and practice. Highlight the good features and camouflaging the flaws is no joke. No person is perfect. Issues like pimples, acne, injuries, burns, oiliness, uneven skin texture, skin disorders, or improper face shape are bound to be present in almost every person. However, it shouldn't stop a person from feeling perfect and the most beautiful on special occasions.
By taking up a makeup artist course in Delhi, you will be able to learn all the hacks necessary to make a person look beautiful through the art of makeup. At MBM Makeup Studio, get access to all the tools needed to become a professional makeup artist.
In a duration of 6 weeks, you will be able to receive an in-depth understanding of makeup along with techniques that will enhance your creativity and skills.
There are a variety of aspects to consider in makeup. The single most important thing is attention to detail. Every detail matter and have a huge role to play in the overall output. With our training program at MBM Makeup Studio, you will be taught about the isolated aspects that play a role in makeup. Every feature of the face will be included along with the hair to create a variety of looks that are appropriate for night parties, engagement parties, formal events, and everyday look.
If you are a person who is a makeup enthusiast and would like to make a career in this booming business, consider taking up makeup classes in Delhi at MBM Makeup Studio.