MBM's Iconic Self makeup course goes online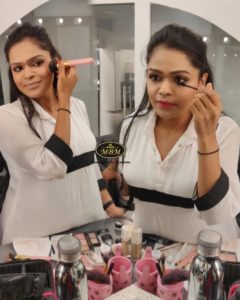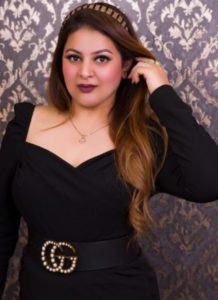 live interactive course to be delivered by
manveen MAM herself
Live moments from our
online self makeup course
What students say about our online self makeup sessions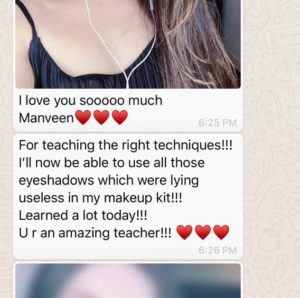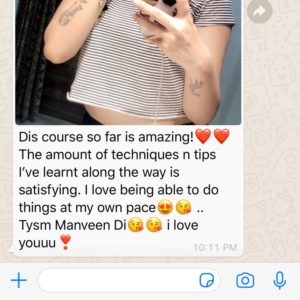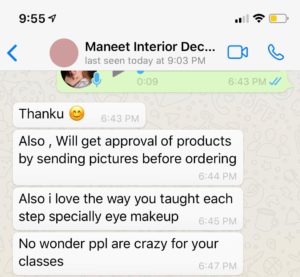 This course is a must for you if you are one of the following:
next batch starts:
COMING SOON
Course will be delivered with the products available at your home.

proper guidance will given for what you can purchase in future.
Learn Makeup Online With MBM Makeup Studio & Academy
We all are living in a fast-moving world. Today with the help of technology, it is possible for us to learn almost everything right at home. Even this pandemic has given many people the opportunity to explore the new skills in them. Many people have explored their interest in the field of makeup. As fashion is all around, it will be great to learn makeup and even pursue it as your career.
Many renowned Makeup Studio and Academy like MBM is providing the best self makeup courses in Delhi. Even MBM has online courses that make it very convenient for people to learn makeup from any part of the globe.
Details regarding online self-makeup course with MBM
It is a 5-day makeup online course provided by the Team of MBM Makeup Studio & Academy. The team will arrange a zoom meeting of the Senior makeup artists of MBM with the students. Each batch will contain 4- 5 students, making it a very interactive session. It is one of the best self makeup courses in Delhi. The concepts of the course are divided into different days as stated below:
Day 1: Introduction to makeup and different product knowledge

Day 2: Soft day makeup look is taught

Day 3: Glittery night makeup look is taught

Day 4: Smokey eye makeup is taught

Day 5: All about doubt session
MBM Self Makeup course will provide benefits to a lot of females
Yes, you heard it right; MBM is providing the best Self makeup course that will benefit many people. Some of the people are listed below:
It is a great course for the bride-to-be who has zero knowledge about makeup. The course will cover all the basic concepts related to makeup.

All the females are into the profession that demands them to look good all the time, like a manager, air hostesses, hospitalities, front office managers, etc.

Any female that has a lot of makeup products but doesn't know how to use them in the right way can surely pursue this course to get the best details.

Any female that needs to attend a lot of social gatherings and doesn't want to waste their time and money visiting salons.

If you are the one that ends up buying the wrong makeup product for yourself.

All the makeup freaks that want to polish their makeup skills in the lockdown.
If you are any of them, it is a great opportunity for you to get enrolled in the best self makeup classes in Delhi i.e., at MBM Makeup Studio and Academy.
MBM Makeup Studio and Academy is a place where you will get all the services related to makeup and skin treatments. Whether you want to learn makeup or get it done on your D-day, MBM is always there for your services. MBM Makeup Studio and Academy is one of the leading self makeup academy in Delhi that has gained a lot of popularity among people for its best services.