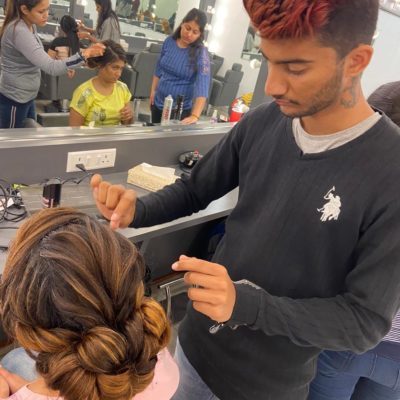 professional hair styling course for beginners
This is a basic to advance hair styling course for those who wanna build a career in hair styling. Students getting enrolled in this course are entitled for assured freelancing assignments 
glimpses of our classroom hair styling course
course Details for hair styling course L1
delhi's most detailed course content
Hair Styling Basics:
Detailed product knowledge
Detailed knowledge of tools
Blow dry
Sectioning
Hair pressing
Tong curls
Pressing curls
Back combing
advance hair styling techniques: 
Braids
Layering
Shredding
Flowers
Knots and bows
Fish Tail
Mermaid braid
Hollywood waves
Side bun
Messy bun
Princess bun
Bridal bun
Multiple front variations
Other Crucial Skills: 
Client counselling
Jewellery setting
Flower setting
Hair extension application
Why choose hair styling as your profession
hair styling course fees - 22000/-
largest makeup & hair training academy
in delhi ncr !!
With over 5000 sq ft of carpet area MBM School has the largest makeup training center of Delhi. 
trained more than 600
Hair Stylists
why are we the best hair academy of delhi ?
hair styling course frequently asked questions
You'll need basic hair styling tools and products. The list is as follows:
Hair dummy
Hair press
Tong
Dryer
Crimper
Tail comb
Paddle brush
Round brush
Section clips
Taft spray (No.5)
Caring spray (optional)
Jurra pins big and small
Bobby pins big
Invisible pins
Hair styling courses are skill based. 
So as to ensure proper learning it's important to invest in a hair styling kit of your own.
The first three classes are of product knowledge. During these sessions you will learn about all the professional products required for makeup and hair styling. Their variants available in India and abroad, where to buy and how to distinguish between original and dupes.
Trainers will also guide you about what needs to be ordered on Nykaa, which products can be bought from a local shopping center. 
No, this is a basic to advance course. We shall start from the very zero level, no prior skill or knowledge about makeup is required. 
Yes for sure, this is a beginner's course and we start from the very basics.
To register for this course you need to pay an advance amount of Rs 5000.
This can be transferred through NEFT/ IMPS to our bank account or you can payTm us. 
Even better if you can come personally to the center and enroll their.   
To initiate the process please connect with us personally on 8448494094
The fee has to be paid in two parts:
1. 5000 advance to block your seat.
2. 17000 on the first day.
MBM Makeup Studio – Enrol at Our Hair Styling Course in Delhi
You cannot expect your makeup look to be complete unless you do your hair right. Hairstyling is an essential part of the beauty that involves a lot of imagination and creativity. We are currently living in a hair-obsessed world, and a good hairstylist will be handsomely rewarded for his/her unique skillset.
In urban society, every woman has a good hairstylist on their speed dial. Impromptu kitty parties and formal events are quite common, and every woman deserves to look their best.
By taking a hair styling course in Delhi at MBM Makeup Studio, you will be able to get equipped with the skills that will help you become a successful hairstylist with time and experience.
Hairstyling isn't just about the skill, instead has a lot to do with the confidence to create a masterpiece. Only through actual practice and regular training, one can develop the confidence that will help them work on real clients in Delhi.
If you are a person who is fascinated by hairstyles and wouldn't mind taking it up as a career option, give MBM Makeup Studio a try. As the largest makeup academy set up in Delhi, we are going to offer in-depth training that is designed for skill development and perfection.
In a structured learning environment, we will offer you the right space to conduct your practices as well as your theoretical sessions. The curriculum we have designed is meant to match international trends and standards, equipping you with skills that will be valuable to clients all across the globe.
MBM Makeup Studio offers the perfect opportunity for people passionate about beauty and hair to live their dream. Even at times of economic slowdown, the beauty industry doesn't fail to stop moving forward, making it a booming career for any hairstylist.
Even if it is not possible to attend our academy physically, our online hair styling course in Delhi comes to your rescue. In a matter of 10 days, get hands-on training from experts into the quirks of hairstyling.
Learning the art of hairstyling couldn't be any easier!